Lasting Love Questline

—Image © Zynga
Vital statistics
Type
Limited Edition
Start NPC
Jeremy
Missions
8
Level
5
Time specification
Starts on
04-Feb-2012
Ends on
17-Feb-2012
Rewards
Scene Rewards
3
Item Rewards
Sweetheart Tree (Decoration)
Progression
Lasting Love was a Limited Edition Valentine themed questline which was part of the Lasting Love Event. It started on February 2nd, 2012 and ended on February 17th, 2012. After the Event ended it will be no longer available for the players.
"Can a 60 year-old paper Valentine help me with my true love? Only you can help me. Play the LASTING LOVE quests to unlock new scenes. Complete the 8 quests to earn the SWEETHEART TREE for your own estate!"

Upload File:Share Lasting Love Questline-feed.png
—Image © Zynga
"Player" is celebrating LASTING LOVE!
"Player" has completed the LASTING LOVE quests in HIDDEN CHRONICLES and is so awesome that even Cupid is dazzled. Join the fun and get that lovin' feelin'.
Share Bonus:
Clue
Screenshot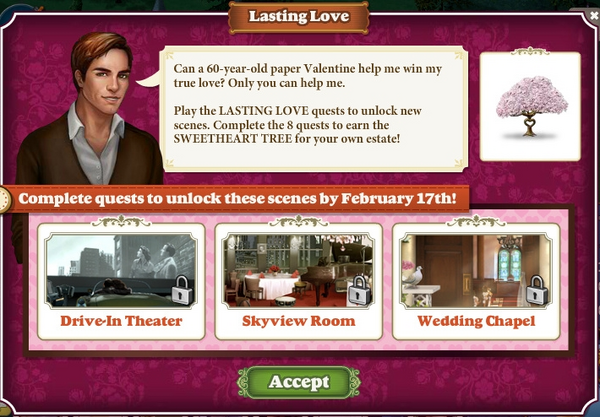 Lasting Love Quests
Rewards for completing all:
Gallery
Community content is available under
CC-BY-SA
unless otherwise noted.