Oliver's Teapot Questline

—Image © Zynga
Vital statistics
Start NPC
Oliver Lawrence
Level
5
Time specification
Starts on
February, 2012
Ends on
March 12th, 2012
Rewards
Item Rewards
Garden Tea Party

Oliver's Teapot is a Limited Edition questline which is part of the Silver Teapot Event. It started February, 2012 and ended on March 12th, 2012. It was then re-released on April 4th, 2012 without the term limited and should be available for all players that reach Level 5
"Who should own the antique Silver Teapot? Is it rightfully mine? I need a Guardian's help! Play the OLIVER'S TEAPOT quests to unlock new scenes! Complete all 4 Acts and earn a GARDEN PARTY TEA SET for your estate!"
Screenshot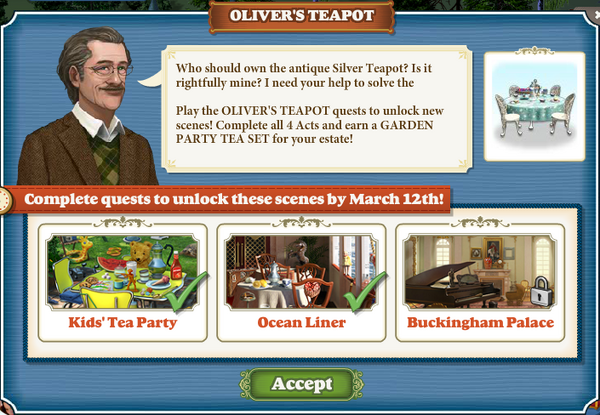 Oliver's Teapot Quests
Rewards for completing all:
Gallery
Community content is available under
CC-BY-SA
unless otherwise noted.